===
Adventure is a spice of life that keeps the mundane days at bay and fills our souls with excitement. The world is filled with breath-taking landscapes, awe-inspiring vistas, unknown terrains, and thrilling opportunities that beckon the adventurous spirits. Whether you're an adrenaline junkie, a nature lover, or a curious explorer, there's a place for you out there, just waiting to be discovered. Let's explore some of the must-visit destinations for your next adventure!
Unleash Your Wanderlust: Top Adventure Spots
Whether you're a seasoned explorer or a novice adventurer, New Zealand has something for everyone. The country's diverse landscape, from the snowy mountains of Queenstown to the black sand beaches of Piha, offers a myriad of adventure activities including bungee jumping, skydiving, and surfing.
If you're more of a hiking enthusiast, the Inca Trail in Peru is a must-visit. It presents an exhilarating combination of history, culture and nature. The four-day trek through lush jungles, high mountain passes, and ancient Incan ruins is nothing short of spectacular.
For those drawn to the waters, Australia's Great Barrier Reef is a haven for scuba diving and snorkeling. Explore the vibrant underwater world, teeming with an abundance of marine life.
Venture to Africa's highest peak, Mount Kilimanjaro in Tanzania, for an unforgettable mountaineering experience. The multi-day hike to the summit is both a physically demanding and emotionally rewarding journey.
Lastly, Nepal, the country of the mighty Himalayas, is a paradise for trekkers. The Annapurna Circuit and Everest Base Camp trek are world-renowned for their stunning views and challenging terrains.
Satisfy Your Adrenaline Cravings: Thrill-Seeking Venues
For adrenaline junkies, Swakopmund in Namibia offers the thrill of a lifetime with its sandboarding and quad biking experiences on the vast desert dunes.
Considered the ultimate thrill destination, Interlaken in Switzerland offers canyoning, paragliding, skydiving, and even ice climbing – all framed by stunning alpine scenery.
In North America, Whistler in Canada, is a mecca for winter sports enthusiasts. With unparalleled ski slopes and snowboarding parks, it also offers exhilarating snowmobiling and heli-skiing opportunities.
Costa Rica's Pacuare River is famed worldwide for its white-water rafting. The river offers class III and IV rapids, making it an adrenaline-fueled adventure through tropical rainforest.
Venture to South Africa's Bloukrans Bridge for the highest commercial bridge bungee jump in the world. At a dizzying height of 216 meters, it's an experience like no other!
Unforgettable Journeys: Immersive Experiences Awaiting You
A journey through the Amazon Rainforest in Brazil offers a unique opportunity to explore the world's largest tropical rainforest, teeming with biodiversity. Boat trips, jungle treks, and wildlife spotting are just some of the activities you can indulge in.
Experience a quintessential African safari in Kenya's Maasai Mara Reserve. Here, you will witness the Great Migration, a spectacle involving millions of wildebeest, zebras, and gazelles crossing the perilous Mara River.
Immerse yourself in the rich culture and history of Japan by embarking on the Nakasendo Trail. This ancient route takes you through quaint villages, stunning landscapes, and offers a glimpse into the country's feudal past.
Travel to Antarctica for a once-in-a-lifetime expedition. Kayaking with seals, visiting penguin colonies, and witnessing the ethereal beauty of icebergs are part and parcel of this journey.
Lastly, go off the grid in Mongolia's Gobi Desert. Camel trekking, visiting nomadic tribes, and exploring untouched sand dunes make for a truly immersive experience.
Off-the-Beaten-Path: Discover Untouched Adventure Paradises
For those seeking less crowded destinations, Bhutan is a gem. Trek to the Tiger's Nest Monastery, explore the untouched Himalayan landscapes, and discover a deeply spiritual culture.
The Faroe Islands, located between Scotland and Iceland, are a paradise for hikers. With dramatic cliffs, cascading waterfalls, and hidden caves, these islands are largely untouched by tourism.
Explore the remote wilderness of Alaska's Denali National Park. Its majestic landscapes, diverse wildlife, and the thrill of solitude make it a unique destination.
Madagascar, an island off the east coast of Africa, is a biodiversity hotspot. Hike through its rainforests, see the iconic Baobab trees, and encounter wildlife species found nowhere else on Earth.
Finally, head to the Osa Peninsula in Costa Rica. This remote area is home to an impressive amount of wildlife and offers opportunities for hiking, birdwatching, and wildlife photography.
===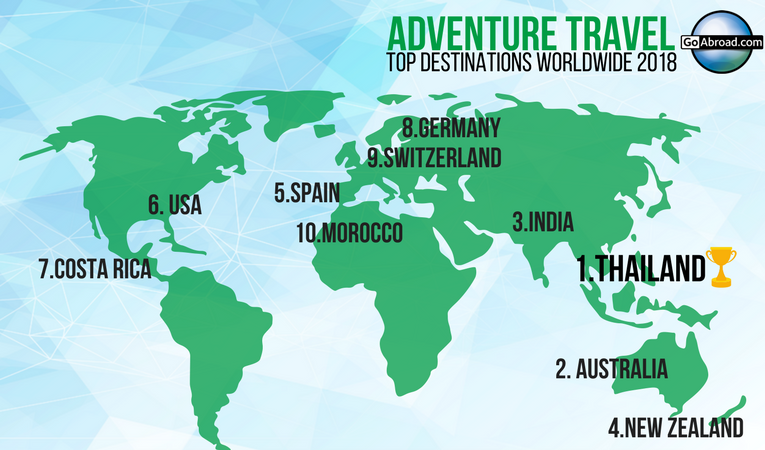 Best Adventure Vacations in the US Last updated on June 6 2023 For some escaping the daily grind means getting their adrenaline pumping on a rugged mountainside or 50 feet below the ocean39sNo Adventurers mustvisit list is complete without Machu Picchu the famous Incan citadel located in the Andes While the site can be accessed via train and bus more active travelers can take 10 MustVisit Destinations for Adventure Travel Enthusiasts July 05 2023 Are you an Adventure travel enthusiast that cant get enough of heartpumping activity that offers thrills and excitement Do you tend to choose your vacation destination based on how many Adventure activities it offersTop of Cebu Address Cebu Tops Rd Cebu City Cebu Opening hours 1100AM1000PM Daily Contact Details 032 516 0718 09062976016 09432525244
Official Top of Cebu Instagram Official Top of Cebu Facebook Enjoy Up To 10 Off on a Top of Cebu Private Half Day Trip on Klook 5 Serenity Mountain Cafe1 Grounds For Sculpture Hamilton FacebookRatsRestaurant FlickrBogdan Milsulki Grounds For Sculpture is a magic park and perfect picnic spot You39ll find incredible art gorgeous gardens and delicious dining at Rat39s Restaurant The Unique Day Trip To Grounds For Sculpture In New Jersey Is A MustDo 2 The Red Mill ClintonFirsttimer tips Practice snow safety Being selfsufficient in every snow condition will help you navigate the terrain Choose an expert guide It can make all the difference Guides can help you find the best areas so you get the most out of your experience They will also be skilled in avalanche awareness31 Top Things to Do in
Colorado More Enjoy all of the natural wonders and vibrant cities Colorado has to offer Getty Images Colorado is made for outdoorsy travelers and adventurous soulsUse a classic schoolteachers trick to keep everyone engaged and share the planning burden Schedule a rotating group leader to take ownership of each days activities This person will be
Each of these destinations offers unique adventures that are sure to satiate your wanderlust and provide memories to last a lifetime. So pack your bags, strap on your boots, and set off on an exhilarating journey of discovery, exploration, and thrilling adventures. Remember, the world is a book and those who do not travel read only a page. Embark on your adventure and read the book cover to cover!